Hi everyone! It has been a crazy week for me, as you can probably tell by the lack of posts, but I did manage to find a few moments for some book shopping! So, here is Stacking the Shelves to tell you which books I have added to my shelves recently.
Stacking the Shelves is what we have added to our bookshelves in couple of weeks. Stacking the Shelves is bought to you by Tynga from Tynga's Reviews. Stacking The Shelves is all about sharing the books you are adding to your shelves, may it be physical or virtual. This means you can include books you buy in physical store or online, books you borrow from friends or the library, review books, gifts and of course ebooks!
In Kristy's mailbox:
T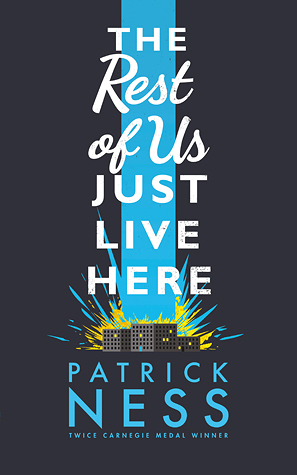 he Rest of Us Just Live Here by Patrick Ness

Thank you to the wonderful people at Walker Books for a proof copy of this book (complete with chocolates – they really know how to win a girls heart).
What if you weren't the Chosen One?
What if you're not the one who's so often the hero in YA fiction; who's supposed to fight the zombies, or the soul-eating ghosts, or whatever this new thing is, with the blue lights and the death? What if you were like Mikey? Who just wants to graduate and go to prom and maybe finally work up the courage to ask Henna out before someone goes and blows up the high school. Again. Because sometimes there are problems bigger than this week's end of the world and sometimes you just have to find the extraordinary in your ordinary life. Even if your best friend might just be the God of mountain lions…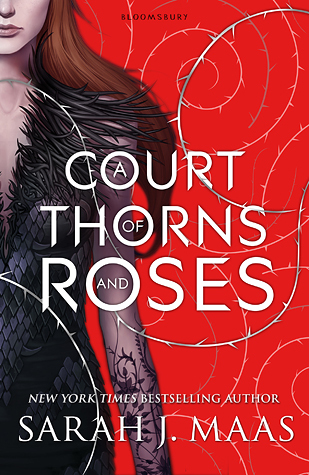 A Court of Thorns and Roses (A Court of Thorns and Roses #1) by Sarah J. Maas

Confession time: I actually purchased two copies of this book this week! One was a preorder (I hope you all preordered for the wonderful goodies Bloomsbury had on offer) and the other was a purchase at Kmart. I couldn't resist the very low price ($10) considering that Sarah J. Maas is coming to Australia later in the year.
The breathtaking start to a seductive high-fantasy from New York Times bestselling author of Throne of Glass series.
Feyre's survival rests upon her ability to hunt and kill – the forest where she lives is a cold, bleak place in the long winter months. So when she spots a deer in the forest being pursued by a wolf, she cannot resist fighting it for the flesh. But to do so, she must kill the predator and killing something so precious comes at a price.
Dragged to a magical kingdom for the murder of a faerie, Feyre discovers that her captor, his face obscured by a jewelled mask, is hiding far more than his piercing green eyes would suggest. Feyre's presence at the court is closely guarded, and as she begins to learn why, her feelings for him turn from hostility to passion and the faerie lands become an even more dangerous place. Feyre must fight to break an ancient curse, or she will lose him forever.
Frostfire (Kanin Chronicles #1) by Amanda Hocking
I purchased this one as I recently received book #2, and I did love the Trylle trilogy. So I look foward to some back to back reading of this series.
Will she give up her dream to follow her heart?
Bryn Aven is determined to gain status amongst the Kanin, the most powerful of the hidden tribes. But as a half-blood, winning respect is a huge challenge. Bryn's almost-human community distrusts people, and those from other tribes are almost as suspect.
She has just one goal to get ahead: to join the elite guard protecting the Kanin royal family. And Bryn's vowed that nothing will stand in her way, not even a forbidden romance with her boss, Ridley Dresden.
But her plans are put on hold when fallen hero Konstantin starts acting dangerously. Bryn loved him once, but now he's kidnapping Kanin children – stealing them from hidden placements within human families. She's sent to help stop him, but will she lose her heart in the process?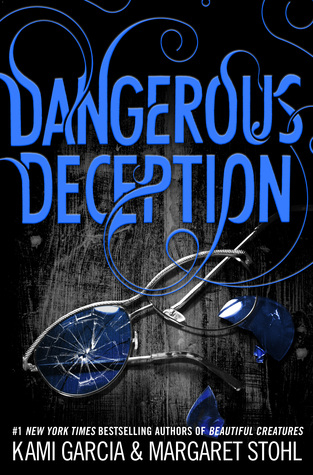 Dangerous Deception (Dangerous Creatures #2) by Kami Garcia and Margaret Stohl

I purchased this one as I quite enjoyed Dangers Creatures – I just hope that the main characters stay true to themselves in this series, as they are the reason I am reading it.
From the world of Beautiful Creatures–a dangerous new tale of love and magic continues in the sequel to Dangerous Creatures.
Love is ten kinds a crazy, right?
Let me put it to you this way: If you can get away, run. Don't walk.
Because once you're exposed, you'll never get a Siren outta your head.
Some loves are cursed. Others are…dangerous. Especially the love between wannabe rocker and quarter Incubus, Wesley "Link" Lincoln, and Dark Caster, Siren, and bonafide bad girl, Ridley Duchannes.
But now Ridley is missing, and Link was with her-right up until she vanished. Determined to find her, Link reunites with his New York bandmates and the mysterious Lennox Gates, who wants Rid for himself. Together they travel to the deep south, find the crossroads where blues guitarist Robert Johnson made his deal with the devil, discover a menagerie of Casters locked in cages, and uncover an evil in New Orleans that threatens to destroy them all.
This time, love might not be enough.
The Catalyst by Helena Coggan
I bought this one as I am very intrigued about the hype around it. I want to read it for myself to see if the hype is because this a great book written by a 15 year old, or if it is a great book considering it was written by 15 year old girl.
Rose Elmsworth has a secret. For eighteen years, the world has been divided into the magically Gifted and the non-magical Ashkind, but Rose's identity is far more dangerous. At fifteen, she has earned herself a place alongside her father in the Department, a brutal law-enforcement organisation run by the Gifted to control the Ashkind. But now an old enemy is threatening to start a catastrophic war, and Rose faces a challenging test of her loyalties. How much does she really know about her father's past? How far is the Department willing to go to keep the peace? And, if the time comes, will Rose choose to protect her secret, or the people she loves?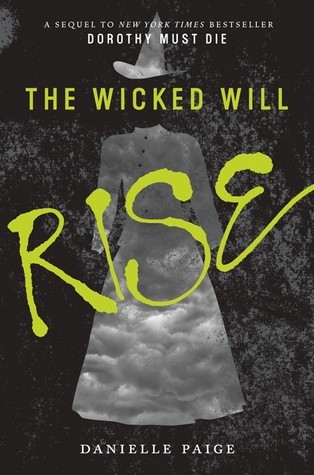 The Wicked Will Rise (Dorothy Must Die, #2) by Danielle Paige

This is my final purchase of the week. I have not read Dorothy Must Die as yet, but I have heard wonderful things about this series, so I wanted the sequel ready and waiting for when I get to read this series. 
After finally meeting his elusive father, Marcus, and receiving the three gifts that confirm him as a full adult witch, Nathan is still on the run. He needs to find his friend Gabriel and rescue Annalise, now a prisoner of the powerful Black witch Mercury. Most of all he needs to learn how to control his Gift – a strange, wild new power that threatens to overwhelm him.
Meanwhile, Soul O'Brien has seized control of the Council of White Witches and is expanding his war against Black witches into Europe. In response, an unprecedented alliance has formed between Black and White witches determined to resist him. Drawn into the rebellion by the enigmatic Black witch Van Dal, Nathan finds himself fighting alongside both old friends and old enemies. But can all the rebels be trusted, or is Nathan walking into a trap?
In The Beginning There Was Us by Ingrid Jonach
I was gifted a copy of this book by the author. Ingrid is an amazingly talented Aussie author, and I am really looking forward to reading her latest work!
What would you do if you were God? If you had the power to not only give life, but take it away in the blink of an eye? These are the questions that plague fifteen-year-old Abbey Baxter after she resurrects a boy, long lost to the ages.
The achingly beautiful and eternally melancholy Cole not only serves as a welcome distraction from her long-time crush, Elwin, but also eases the heartache that persists since the sudden passing of her younger brother, Junior, four years earlier.
As the intrigue of her relationship with Cole deepens, so too does the mystery that surrounds a growing phenomenon sweeping through her small West Virginian town, transforming the lives of its residents. Around her, two bedroom cottages are transforming into mansions without explanation and residents are waking up to bank balances that have tripled overnight, all under the watchful gaze of the sinister American Laboratory for Particle Physics, located on the outskirts of town.
As Abbey searches for answers in a bid to solve the mystery in partnership with Elwin, she's forced into a realization that that some things are better left buried, including her newfound love, Cole.
This cautionary tale of heartache and obsession explores the endless possibilities of the universe and its devastating impact on two young lovers from different worlds. .
That is all from me this week. What did you receive in your mailboxes? Let me know – leave your links in the comments section below!