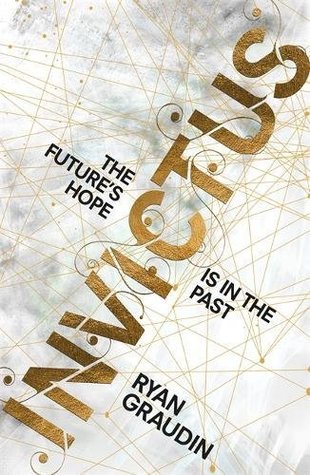 Release Date: September 21st 2017
Published By: Orion/Little Brown
Goodreads: Add it to your reading list
Purchase: Booktopia     The Book Depository
Rating: 4 out of 5
Synopsis: Time flies when you're plundering history.

Farway Gaius McCarthy was born outside of time. The son of a time-traveling Recorder from 2354 AD and a gladiator living in Rome in 95 AD, Far's birth defies the laws of nature. Exploring history himself is all he's ever wanted, and after failing his final time-traveling exam, Far takes a position commanding a ship with a crew of his friends as part of a black market operation to steal valuables from the past.

But during a heist on the sinking Titanic, Far meets a mysterious girl who always seems to be one step ahead of him. Armed with knowledge that will bring Far's very existence into question, she will lead Far and his team on a race through time to discover a frightening truth: History is not as steady as it seems.
Review: I will admit that I normally stay away from stories revolving around time-travel – but this book just appealed to me in a way that time-travel normally does not. Travelling across history including ancient Rome and the Titanic, and add heists – where do I sign up?! (plus look at that gorgeous cover!)
I thoroughly enjoyed Invictus. I pretty much loved everything about it. It included travelling to some times that really interest me, great descriptions, no insta-love, a mysterious girl who seems set to ruin everything for our main man Far and some amazing secondary characters!
Far is a unique character. Born outside of time he is the son of celebrated Recorder and an unknown (to him) father. But while parts of his history are a mystery, he knows his future. Well, that is until Marie Antoinette ruins it all for him.
Far is definitely an interesting character, much different to those we normally see. He is determined, fearless and filled with confidence, but yet his life has taken a turn that he never expected. However he will not let that ruin him, instead of becoming the Recorder he has always wanted (and set to) be he enters the black-market trade, takes his most trusted alliances with him to steal treasures from the past. But is the past as set as he believes.
Far's crew were a major highlight of this book for me. In particular Imogen. Imogen is Far's cousin, and she is everything I want in a side-character. She is sassy, fun, insecure, sarcastic, sweet, hilarious and downright adorable. For comparison, she reminded me of Zuz (from Daughter of Smoke of Bone) in awesomeness levels. She is exactly the type of girl you want in your life – and as she is the crew's historian, she is the exact person you want by your side while jumping through time. The rest of the crew consists of Priya who is a medic and engineer and she is the level-headedness that Far needs. She is smart, calm, clever and compassionate. The final member of Far's crew is Gram – he is super-smart, analytical, logical and solid.
Well, when I say final member, that is until Eliot arrives. This mysterious girl who has forced herself into Far's life and crew – at times she seems determined to ruin him, at other times she seems to want to help him. You just never know with this smart and sometimes magical girl.
I love the fact that you get multiple POVs in this book (third person) as it adds so much depth to both the characters and the story. The story is action-packed and filled with mysteries that unravel all the way to the heart-pounding end.
As I said earlier, I don't normally like time-travel stories; they are very hit and miss for me. Although far from an expert in this area, sometimes I can see glaring holes in the story, and if I can't, they tend to be so confusing that I lose interest in the story as the details are so complex. But Ryan has written the perfect balance in Invictus. We are not bogged down in details, but we have enough to not question too many things – and most importantly we aren't bamboozled along the way!
This story has heart. The characters are fantastic. The friendships that are shown are concrete and lovely. The history is fluid and interesting. The action was intense. The reveals were exposed at the right times and the overall story was fun and interesting.
I really enjoyed jumping through time with Far, Imogen, Priya, Gam and Elliot. This novel is a standalone, and while the epilogue did provide a solid ending, I would be more than happy to have some short stories produced about these endearing characters and their future/past adventures (or even a sequel).