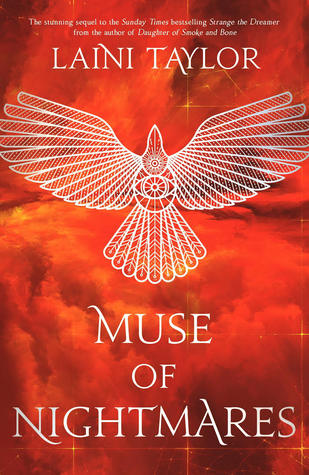 Release Date: October 2nd 2018
Published By: Hodder & Stoughton / Little Brown
Goodreads: Add it to your reading list
Purchase: Booktopia     The Book Depository
Rating: 5 out of 5
Synopsis: Sarai has lived and breathed nightmares since she was six years old.
She believed she knew every horror, and was beyond surprise.
She was wrong.

In the wake of tragedy, neither Lazlo nor Sarai are who they were before. One a god, the other a ghost, they struggle to grasp the new boundaries of their selves as dark-minded Minya holds them hostage, intent on vengeance against Weep.

Lazlo faces an unthinkable choice–save the woman he loves, or everyone else?–while Sarai feels more helpless than ever. But is she? Sometimes, only the direst need can teach us our own depths, and Sarai, the muse of nightmares, has not yet discovered what she's capable of.

As humans and godspawn reel in the aftermath of the citadel's near fall, a new foe shatters their fragile hopes, and the mysteries of the Mesarthim are resurrected: Where did the gods come from, and why? What was done with thousands of children born in the citadel nursery? And most important of all, as forgotten doors are opened and new worlds revealed: Must heroes always slay monsters, or is it possible to save them instead?

Love and hate, revenge and redemption, destruction and salvation all clash in this gorgeous sequel to the New York Timesbestseller, Strange the Dreamer.
Review: To be honest, I don't even know where to start with the perfection that is Muse of Nightmares. I could never do this book justice, so I am not even going to try to be comprehensible; I am just going to fangirl over it.
Although my expectations were impossibly high, Laini managed to exceed every single one of them! This amazing conclusion was enchanting, enthralling, thrilling, heartbreaking and exciting. All the emotions rolled over me throughout this story while I held my breath and felt unexpected thrills all at the same time.
Going into Muse of Nightmares I was scared for so much – for the characters, for what answers were to come, for what Minya would do, for the end of this story/world. I left this book feeling amazed, fulfilled and yet still filled with anticipation. All my questions were answered – and then some. Some more answers, and more questions!
Muse of Nightmares picks up where Strange the Dreamer left – with the exception of an introduction to new characters, this story picks right up where we left holding our breath for Lazlo and Sarai. The story hits the ground running with the threat of Minya's revenge and control, Lazlo's desire to make everything right and Sarai's "otherness". And from here, it is all action and heartbreak, exploration and growth, compromise and answers.
The writing is breathtaking!!! Only Laini knows how to write with such exquisite prose and vivid imagery.  You are not reading words on a page, you are transported to another world. With heart and heartbreak, you feel the characters rather than just getting to know them.
And speaking of the characters – the character growth in this story is phenomenal! And each characters arc is so very different from another's, and only Laini can make you despise and feel for a character from one second to another! I absolutely love the fact that there is no clear line between good and evil characters, that there is such complexity to these characters that they can both, or neither, at the same time. This is not a story of vs evil; this is a story of everything in-between. Heroes come in all shades of grey (pun intended).
We get to explore a little more about other characters we love. Along with this I found my feelings change towards some characters. Partly because of their growth, but primarily as we get to see other sides to them through different eyes. Minya and Thyon in particular. I think the distance from Thyon and his growth changed my mind on him (although there was something that I now want to see more of from him), And our evil little Minya is explored in much more depth. She always was an amazing character, but you get so much more of her in Muse of Nightmares (yay!). As mentioned earlier there is the introduction of new characters, but don't worry, these characters are integral to the story, and have a wild story to tell themselves.
There were  moments where my heart stopped during this book. At one stage I actually stopped and thought "oh god, Laini just Laini-ed me". I won't say what that aspect was, but my shattered heart jumped into my throat. Over and over (hint for those who have read it). But in saying that, Laini "Laini-ed" me a few times. In that, I mean she threw something at me that made me hurt or become breathless and then she switched the view and I wanted to yell at the book. But within a sentence I was transported into the other aspect of the story. This happened over and over again. While I was desperate to continue one storyline, I got fully enchanted with another.
There were so many questions from Strange the Dreamer, and I hoped that Muse of Nightmares provided answers. And it did. Most however were not the answers I was expecting and I loved that. This world is so huge and complex and layered – and oh my, so fabulous!
There is one aspect to this story that made me want to scream with excitement, but yet made me desperate at the same time. SPOILER: Highlight here:  There are references to Daughter of Smoke and Bone, and every time one popped up, my heart skipped multiple beats. I just knew from Strange the Dreamer that these worlds were connected!!! 
Be still my beating heart! My heart still beats faster when I think about it. SPOILER: Highlight here: oh gods, the inference of a Strange/Daughter cross over – I am dying inside!!! I want it, I want it more than just about anything (with the exception of a Brimstone prequel).
In summary: The writing is beautiful and lyrical, each sentence is flawless. The characters are filled with complexities stemmed from pain and love and they have amazing amounts of growth over the course of this journey. The story is filled with twists and turns and so many surprises. The story is filled with magic and love, tragedy and pain, hope and determination.
In summary: The writing is beautiful and lyrical, each sentence is flawless. The characters are filled with complexities stemmed from love and pain and each have so many obstacles to overcome, resulting in amazing amounts of growth across this journey. The story is filled with twists and turns and so many surprises. The world is layered and intricate and filled with magic and love, tragedy and pain, hope and determination.
Muse of Nightmares fulfilled all my dreams – and created some new ones. It thrilled me and broke my heart and I loved every single second of this amazing story. I always have extremely high expectations of Laini's books, and that is both thrilling and crazy scary going into them. But this book was everything I could have ever wanted, without even knowing what wanted. Muse of Nightmares is absolutely perfect!